Media releases
Ballarat Child Protection Program recognises First Night Care packs project
Posted: Wednesday 5 September 2018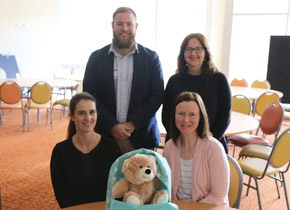 Community Services students from Federation University Australia have been recognised by the Ballarat Child Protection Program for their work in distributing First Night Care packs to foster children.
Held during Child Protection Week, the event took place at the University's Mt Helen Campus.
"More than 25 of our Community Services students have worked throughout the year to provide First Night Care packs to the most vulnerable children in our community," Community Services teacher Katrina Kavanagh said.
"We estimate about 320 First Night Care packs have been distributed by our students this year."
During the event a child protection practitioner who used the packs spoke about their positive influence.
This was followed by a formal presentation about careers and student placements in child protection.
Many of the University's Bachelor of Community and Human Services; Bachelor of Criminal Justice; Master of Social Work and Community Service TAFE students attended the event.
Staff across these courses continue to collaborate and provide opportunities, as well as genuine linkages with community and industry, for the benefit of student learning.
The event was organised by the University and the Ballarat Child Protection Program.