Media releases
FedUni raises over $16,000 in annual Christmas in July fundraising appeal
Posted: Friday 17 August 2018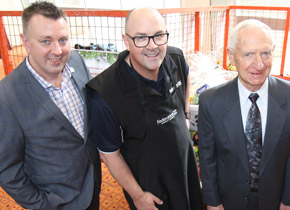 Federation University Australia has raised over $16,000 in the annual Christmas in July and August fundraising appeal.

Supporting a range of charitable causes, hundreds of staff, students and community members attended a number of events held at both the Mount Helen and Gippsland campuses.

The initiatives included two student residential community dinners, hosted by our residential student leaders, a lunch at Mount Helen supporting the 3BA Christmas in July appeal and a final dinner supporting the Country Fire Authority (CFA) at the Gippsland Campus.

"In addition to the 3BA Christmas in July appeal and CFA Churchill, charities to receive donations from the appeal included the World's Greatest Shave, the Red Cross, the Starlight Foundation and AIME," Colin Marshall, Director of Campus Life, said.
"We would also like to take the opportunity to acknowledge Peter Caligari, who has stepped down from his role as Director of the 3BA Christmas in July Appeal, and welcome John Fitzgibbon.
"Peter has done an extraordinary job over many years. We look forward to working with John in the coming years," Mr Marshall said.
"Once again, this fantastic effort would not have been possible without the generosity of our many staff, students, sponsors and partners who have donated their time or money for the annual appeal."