Media releases
FedUni and Berry Street announce program to train teachers and social workers
Posted: Wednesday 15 August 2018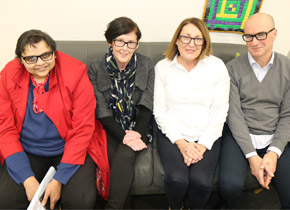 A partnership to develop a work integrated learning program to train and prepare future teachers and social workers has been developed by Federation University Australia and Berry Street.
The learning program is designed to support and aid young people to reengage in education.
"Young people face complex demands that span social and economic dimensions which can lead to disengagement from society and education," Dr Sharon McDonough, Senior Lecturer, said.
"The effects of youth disengagement from schooling are profound in social cost, lost earnings, additional health expenditure, crime, welfare and social services.
"These economic and social consequences of low attainment are profound, particularly in those communities where there is generational disengagement from education," Dr McDonough said.
"Professionals, such as community service workers, social workers and teachers, who work with young people are at the frontline of working in programs to re-engage young people with community and education."
An innovative transdisciplinary work integrated pilot project is on track for FedUni students from the Bachelor of Community and Human Services and Bachelor of Education/ Bachelor of Arts (Joint Degree) working collaboratively at Berry Street Western Region.
"In their work at Berry Street the university students will participate in programs that provide wrap around supports and education pathway plans for young people in the Central Highlands region," Dr McDonough said.
"This is a unique model that will provide university students from both programs with the skills and competencies to undertake transdisciplinary work to support young people after graduation."
The pilot will run throughout 2018 and be evaluated to develop a model that can be implemented in other contexts.
The researchers involved in the project include Dr Tejaswini Patil, Dr Sharon McDonough, Associate Professor Dean Cooley, Professor John McDonald, and Associate Professor Annette Foley from Federation University. They are collaborating with Andrew McCausland and Jo Fogarty from Berry Street.
Picture: Dr Tejaswini Patil, Dr Sharon McDonough, Jo Fogarty and Andrew McCausland