Media releases
University hosts Higher Degree by Research Conference
Posted: Friday 27 July 2018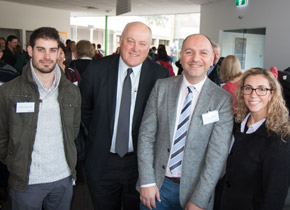 More than 70 of Federation University Australia's Higher Degree students have presented their research at their annual conference at the Mt Helen Campus.
The 2018 Higher Degree by Research Conference provided a welcome opportunity for FedUni students to present their research and hone their presentational skills in front of an audience.
"Our higher degree students have a proud history of delivering innovative and rewarding research," Professor Leigh Sullivan, Deputy Vice-Chancellor (Research and Innovation), said.
"The annual HDR research conference allows our students to come together in a supportive environment to present their work.
"This conference is just one of the ways in which the conference supports the development of emerging researchers and further enhances the university's research culture."
Research topics at the 26 July conference included Radical Ballarat (Jenny Beacham); head gear in cricket (Dulan Kodikara); employment relations in the gig economy (Tam Tran); a new Melbourne Transport Plan (Trevor McKenna); corporate social responsibility in Australia (Merryn Paynter); and collaborative reading with struggling researchers (Clare Williams).
Professor Sullivan said the conference theme of Sharing Our Knowledge addressed one of the key responsibilities of research.
"Gaining knowledge is only the first part of a researcher's duty," he said.
"The sharing of that new knowledge is a process that enriches us all."
The conference was held at the Geoffrey Blainey Auditorium.