Media releases
University to host Mid-Year Orientation programs
Posted: Friday 20 July 2018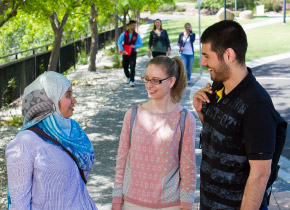 Federation University Australia students commencing their study mid-year will have the opportunity to meet staff and other students during a special series of Orientation programs.
To be held at the Mt Helen, Berwick and Gippsland campuses, the programs will run from 23 July to 8 August.
"The University is delighted to welcome all of our new students commencing at FedUni over the next few weeks," Professor Andy Smith, Deputy Vice-Chancellor (Academic), said.
"Our university has an outstanding record for teacher quality and graduate employment. We also have a five-star rating from the Australian Good Universities Guide for Student Support, Social Equity and Skills Development."
The Mt Helen Campus will hold its first information sessions on Monday, 23 July. School welcomes and mentor sessions will be held from 10.45 am to 11.30 am followed by lunch. A session for international students also will be held from 9.00 am to 10.45 am. Campus tours and more school sessions will follow in the afternoon.
On Tuesday, 24 July, the Mt Helen Campus will hold further sessions for science, engineering and information technology; health, education and arts; and business students.
An orientation program for nursing students also will be held on Wednesday morning.
The Berwick Campus will hold a domestic and international student orientation program from 9.00 am to 3.00 pm on 24 and 25 July. Nursing students will have an orientation program from 8.30 am to 4.30 pm on Thursday, 26 July.
A Melbourne Discovery Tour will leave the Berwick Campus on Friday, 27 July. A Mini Market Day also will be held on Tuesday, 31 July.
On Wednesday, 8 August, ten pin bowling and climbing gym visits will be organised.
The Gippsland Campus will hold school welcomes and mentor sessions on Wednesday, 25 July. A Mini Market Day will be held in the Student Lounge from 11.00 am to 2.00 pm on Tuesday, 31 July. A bowling, mini golf and laser tag day also will be held on Monday, 6 August.