Media releases
Digging out the family dirt
Posted: Friday 20 July 2018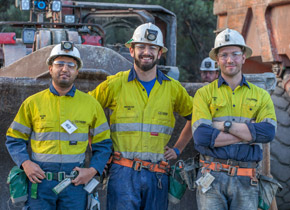 Does your family have a connection to Australia's mining industry? If so, Federation University Australia and the AusIMM Central Victoria Branch want to hear about it.
The University and the AusIMM have shared a close association for many decades and are celebrating AusIMM's 125th anniversary by collecting stories of past, present and future mining workers and their families to acknowledge the people who have contributed so much to Australia's development, history and wealth.
The Australasian Institute of Mining and Metallurgy (AusIMM) was conceived in July 1892 by a group of visionary miners who gathered at Ballarat's The George Hotel to discuss creating an organisation that would represent their interests and build professional development opportunities.
AusIMM held its first meeting in Adelaide in 1893 and now boasts more than 13,000 members worldwide. It is recognised worldwide as the peak professional body for the global resources sector.
FedUni will celebrate its 150th anniversary in 2020, with mining engineering, geology and metallurgy amongst its foundation courses, and is keen to gather stories from its former mining students and their families.
Your family's story can be sent to Mining Family Treasures at l.loroznikov@federation.edu.au or mailed to School of SEIT, Federation University Australia, PO Box 663, Mt Helen, VIC by 5pm, Monday 20 August.
Stories can be entered in a range of categories including open (age 18 and above), senior secondary (Years 10 to 12), middle years (Years 5 to 9) and lower primary (to and including Year 4).
Winners will be announced during the Central Victoria Branch Technical Seminar on Friday 14 September titled 'The Minerals Industry: Past Present and Future' at Federation University Australia. The seminar will be followed by a celebration dinner for the 125th anniversary of the Institute and 30th anniversary of the AusIMM Central Victoria Branch.
A Flyer and Entry Form are available at http://ow.ly/83gJ30l2nqZ
For further details contact Larissa Koroznikova at l.koroznikova@federation.edu.au or 5327 9298 or Stephanie Davison at s.davison@federation.edu.au or 5327 9373