Media releases
Growing Aged Care/Disability Opportunities
Posted: Thursday 12 July 2018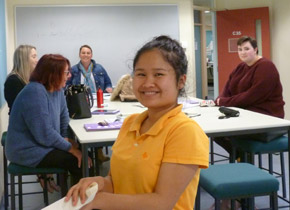 FedUni TAFE is offering rolling enrolments for its Certificate III in Individual Support Aged Care/Disability/as Traineeships at its Wimmera Campus.
The Wimmera Campus begun offering the Certificate III training in February this year, and is now making the process easier for people interested in an entry level role working in Aged Care and Disability.
Geoff Lord, Head of the Wimmera Campus said rolling enrolments meant aged care facilities could on-board trainees into the qualification at various times, providing more flexibility for both the employer and prospective trainees.
Mr Lord said FedUni TAFE Skills and Jobs Centre met regularly with local aged care facility providers to determine how they can work together to best meet their workforce needs into the future.
Traineeships offer students the opportunity to earn while they learn through a combination of employment and training, resulting in a nationally recognised qualification.
"FedUni teachers, who are registered nurses with current industry experience, train the participants to be work ready as a health support worker, or to take the next step into a nursing qualification," Mr Lord said.
Upon selection, participants enter into a contract with the employer and are enrolled to study the Certificate III Individual Support as a trainee at FedUni TAFE's Wimmera Campus in Horsham. Applicants are required to complete training whilst employed with the Aged Care/Disability facility for the duration of the traineeship.
Anyone interested should contact FedUni TAFE Horsham Skills and Job Centre on 5327 6540 or email skillsandjobs@federation.edu.au