Media releases
Student Commons Area at Mt Helen Campus re-named
Posted: Friday 22 June 2018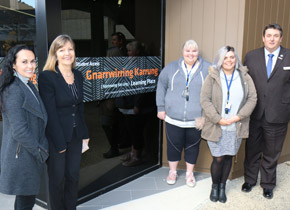 Federation University Australia's Student Commons Area at the Mt Helen Campus is the first FedUni building to be officially given an Aboriginal name, Gnarrwirring Karung.
Meaning Learning Place in the local Wadawurrung language, the re-named centre (pronounced Narrowing Ker Ung) will provide recognition of the area's cultural heritage and increase the vibrancy, diversity and rich culture throughout the campus.
The re-naming ceremony was held at the Gnarrwirring Karung Student Commons Area, S Building, Mt Helen Campus.
"The choice of name follows an extensive process of seeking suggestions from the student body, the University's Aboriginal Education Centre and local Aboriginal custodians," Geoff Lord, Chairman of the University's Reconciliation Action Plan (RAP) Committee, said.
"The official naming meets many elements recognised within the FedUni RAP such as enhancing community, embedding culture, providing opportunity and, most importantly, respect.
"The ceremony is a fine example of putting Aboriginal culture at the centre of our daily lives."
Jasmine Graham, Manager of the Aboriginal Education Centre, said the re-naming was a milestone for the local Aboriginal community.
"The University is committed to greater recognition of Aboriginal heritage and culture throughout all of its campuses," Ms Graham said.
"Gnarrwirring Karung will be an impressive landmark throughout the Mt Helen Campus and a welcoming learning place."