Media releases
Brisbane Campus honoured by major design award
Posted: Tuesday 5 June 2018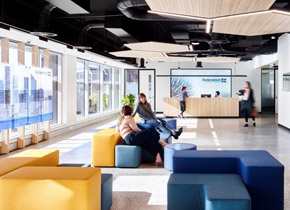 Federation University Australia has been honoured by a Gold Award awarded to leading designers Goldi for their stunning work on the new Brisbane Campus.
Goldi won the Environmental Graphic Design category at the Melbourne Design Awards.
The prestigious awards celebrate creativity, communication design and the built environment.
"It was a great experience to work with Angela Stefanoff at Goldi to transform the interior of our Brisbane Campus," Alexandra Elibank-Murray, Campus Director, said.
"Angela was extremely sensitive to the brief of combining a professional environment where industry partners would feel at home, alongside a space that would feel inspiring to a student body.
"We worked closely on several versions of the brief, ensuring it combined elements of importance to the University in a modern interpretation.
"Angela's eye for detail, professional knowledge and ability to collaborate with her client make her a pleasure to work with. Identity and placemaking graphics were key elements in the design."
Federation University Australia's new Brisbane campus spans three floors of a Brisbane city office building in Ann Street.
Goldi Design was engaged by Conrad Gargett Architecture for the project. The completed work creates a sense of place for an aspirational learning environment for students combined with appropriate spaces for industry engagement.
The solution also responds to the interior design finishes, complimenting geometric acoustic panels in the ceiling and on walls, as well as matching the colour and tones of upholstery and timber features.
"We are so excited that our new students will be the first to enjoy these new surroundings," Ms Elibank-Murray said.
"Our new Brisbane Campus offers a high-quality learning experience for international students."