Media releases
Ballarat Agricultural and Pastoral Society to move to Mt Rowan site
Posted: Tuesday 5 June 2018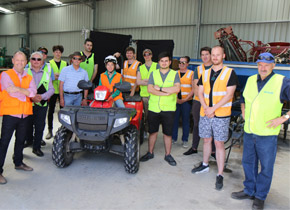 Federation University Australia and Ballarat Agricultural and Pastoral Society (BAPS) have been negotiating for some time to facilitate the sale of the University's Mt Rowan site to BAPS.
The University will enter into a Memorandum of Understanding with BAPS to ensure the continued use of the 16.2 hectare site for agricultural education and training.
"The University is keen to see the best use made of its assets and this agreement is the best way forward for both organisations," Darren Holland, Deputy Vice-Chancellor (Student Support and Services), said.
"BAPS has been located on its Midland Highway site for more than 80 years and has more than 160 years history in Ballarat. The Society will continue to promote agriculture in the region.
"Relocation to new premises will allow BAPS to expand activity and maintain the relevance and long history of the Society in Ballarat."
Negotiations to finalise the sale are well advanced and both parties expect to conclude them in the coming weeks.