Media releases
FedUni research contributes to leading international blood pressure study
Posted: Monday 28 May 2018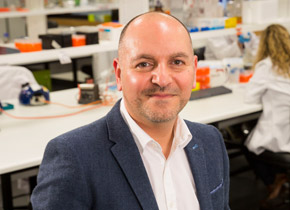 A major international study on high blood pressure featuring Federation University Australia's Professor Fadi Charchar is set to improve the lives of many sufferers.
The study was published in the Lancet Global Health journal, the number one public health journal worldwide.
"High blood pressure is the biggest contributor to disease and mortality around the world, with more than 10 million people dying from it each year," Professor Charchar said.
"The study of more than 1.2 million people provides invaluable data about how the diseases can be prevented or controlled."
Volunteers in more than 100 countries, including Australia, screened people in cities, towns and villages as part of the largest public blood pressure screening exercises the world had seen.
The study was funded by the International Society of Hypertension and the Centres for Disease Control and Prevention.
"Our primary objective in doing the study was to raise awareness of blood pressure and the levels of hypertension globally," Professor Charchar said.
"We discovered 393,924 individuals had hypertension; 153,905 were not receiving antihypertensive treatment; and 105,456 receiving treatment did not have controlled blood pressure.
"Adjusted blood pressure was higher in association with diabetes, cerebrovascular disease, smoking and alcohol consumption."
Professor Charchar called for more cheap, accessible testing programs in all countries.
"Access to good health care is not available to most people in many countries," Professor Charchar said.
"The study calls for a greater global effort to reduce the many millions of deaths globally from high blood pressure."
Screening of more volunteers will continue this month.
The Vice-Chancellor, Professor Helen Bartlett, praised Professor Charchar on his work and contribution to international efforts in cardiovascular research.
"Professor Charchar's great success is another example how FedUni research is strategically positioned to have a strong impact," Professor Bartlett said.
"Our research academics are working hard to make a difference to the communities we serve locally, nationally and globally."