Media releases
FedUni launches Big Dreams Youth Leadership Academy
Posted: Wednesday 23 May 2018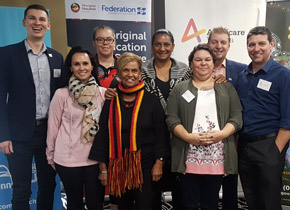 Aboriginal and Torres Strait Islander adolescents will have the opportunity to reach their full potential as part of Federation University Australia's new Baldau Yiooghen Big Dreams Youth Leadership Academy.
Administered by the University's Aboriginal Education Centre (AEC), the Academy will help students broaden their education and skills.
"This exciting new Academy will help students complete secondary school, build aspiration and knowledge, value personal and social wellbeing, and understand the importance of becoming leaders in their community," Jasmine Graham, Director of the AEC, said.
"We are very proud to have been asked to be the educational partners for Baldau Yiooghen.
"The opportunity to work alongside leading organisations like Anglicare, Tennis Australia and The Long Walk to engage with young Aboriginal kids is a major step forward for our future planning and engagement here at FedUni and the AEC."
Young adolescents from Goolum Goolum Aboriginal Co-Operative-Horsham and Bendigo and District Aboriginal Co-Operative have applied to join the Academy where they will participate in camps, leadership sessions, work experience and educational support programs.
"The importance of FedUni being involved in the Academy was paramount. As a regional and multisector university from the region, FedUni offers nearby locations and various pathways to TAFE and undergraduate studies," David Law, Youth Engagement Manager at Anglicare Victoria, said.
Guests of the launch heard from FedUni alumni and current Goolum Goolum staff member Tanisha Lovett speak about her passion for learning, art and design.
The launch was also attended by distinguished guests Yorta Yorta Elder Aunty Pam Pedersen (Nicholls), youngest daughter of Sir Douglas and Lady Gladys Nicholls; former Senator and Olympic gold medallist Nova Peris; and Essendon football champion Simon Madden.