Media releases
FedUni Living Leadership Exchange program recognised for best practice
Posted: Tuesday 22 May 2018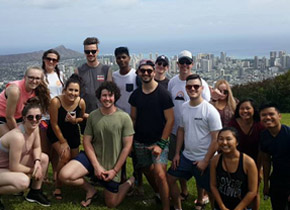 FedUni Living's Manager Residential Communities Andrew Renfree has been recognised at the Asia-Pacific Student Accommodation Association (APSAA) awards, being awarded the Michael O'Leary Award for Innovation.
The award recognises an individual or team who has introduced a significant innovation that has influenced the Association and the campus housing profession as a whole.
In its fifth year, the FedUni Living Leadership Exchange program provides an innovative approach to student development beyond traditional educational pathways or education abroad settings.
"The Leadership Exchange Program being recognised for innovative and best practices, not once but twice, again highlights the extraordinary opportunities available to both our residents and the broader campus communities we serve," Colin Marshall, Director of Campus Life, said.
"FedUni's student leaders and support staff have benefitted so much from the exchange program, this global recognition provides further evidence of the importance and impact of our residential opportunities."
Last year saw the inaugural FedUni / University of Hawaii Manoa (UHM) residential leadership exchange with Residential Advisors (RA's) and support staff visiting their colleagues' institutions in Australia (Ballarat) and the USA (Honolulu).
The program also was recently awarded the NASPA 2018 Best Practices in International Education Award for Student Affairs Professional Global Partnership.
The program was recognised for the exemplary innovative professional exchange of RA's between the participating universities, and was also commended for the unique opportunity it provides to participants to explore international education and residential life in each respective country.
NASPA is the leading association for the advancement, health, and sustainability of the student services profession comprising of over 15,000 members internationally.
"The Leadership Exchange Program provides a personal and professional development experience for existing and emerging student leaders that enables participants to learn from an immersive experience," Andrew Renfree, Manager Residential Communities, said.
"Participants are given the opportunity to explore higher education, and more specifically residence life, through our colleague's institutions, experiencing a new cultural and organisational context."
The awards recognise the innovative and collaborative approach to staff and student leader development through professional and cultural exchange.
For FedUni students, the program included exploring a number of local university campuses, museums, a homeless shelter, Pearl Harbour as well as Fourth of July festivities, providing students with a well-rounded program and a strong focus on indigenous populations.
FedUni participants stayed within university accommodation in Honolulu and participated alongside UHM student leaders focussing on aspects of their roles and residential landscapes.