Media releases
FedUni rated number one in Victoria for getting a job
Posted: Thursday 17 May 2018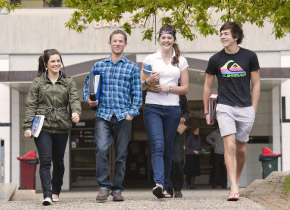 A national survey of graduates has placed Federation University Australia number one in Victoria for overall employment and median salary.
The QILT survey reveals FedUni graduates have an employment rate of 90.6 per cent and a median salary of $60,000, the highest of Victorian-headquartered universities.
The University also ranked number one in Victoria for student support, teaching scale and skill development. Of the 13 indicators, FedUni was ranked above the national average in 10.
"These consistently high results are further testimony to the quality of FedUni graduates and the programs we deliver to our students," Professor Helen Bartlett, Vice-Chancellor, said.
"We make it our priority to create job-ready graduates so it is no surprise these results are outstanding."
The QILT results follow a Higher Education report conducted by Nous Pty Ltd and the Centre for Policy Studies on behalf of the Regional Universities Network, (RUN), revealing the important role FedUni and its graduates play in regional economic growth.
"The University contributes more than $230 million in productivity and generates an additional 1000 jobs in our campus regions," Professor Bartlett said.
"Our students are a great asset to their communities. In total, 68 per cent of bachelor level graduates go on to work in a regional area, compared to the national average of 23 per cent.
"Over this fortnight the University is graduating 1400 students, who are confidently pursuing their professions in Australia and overseas.
"We congratulate our graduates and know they are entering the workforce with many advantages."