Media releases
FedUni graduates embark on their next journey
Posted: Tuesday 8 May 2018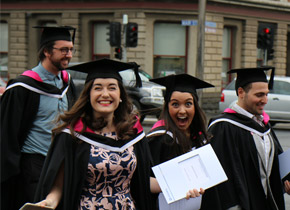 More than 1400 students will graduate from Federation University Australia at graduation ceremonies in Ballarat and Gippsland from 9-24 May.
"We look forward to honouring the many hundreds of worthy graduates from throughout Victoria a well as those students who study with our many trusted partners both here and in Malaysia," Professor Helen Bartlett, Vice-Chancellor, said.
"These ceremonies will celebrate and recognise the many talents and achievements of our graduates and the impact their learnings will have on the communities they choose to serve."
The first graduation ceremony in Ballarat's CBD will see the new graduates and academics leave the Regent Theatre in Lydiard Street, processing to the Mining Exchange.
"This is always a great spectacle that creates a sea of colour in the CBD and tugs at the hearts of family and friends who witness this memorable occasion," Professor Bartlett said.
"We also are delighted that so many of our graduates remain in their community. In total, 68 per cent of bachelor level and 63 per cent of postgraduate-level FedUni graduates will go on to work in our regional areas."
The CBD ceremony will also include a traditional Welcome to Country by Aunty Corinna Eccles to signify the start of the University's May 2018 graduation program.
Eleven PhD students will graduate throughout the ceremonies.
The University Medal, the highest academic award that can be bestowed on a graduating student by the University is awarded to a graduate who has consistently demonstrated exceptional academic achievement throughout their studies. This year it will be presented to students Elizabeth Miller and Joseph Dawson.
The graduations coincide with a new report confirming the University is a major contributor to economic productivity and employment within the regions it serves.
The economic impact study conducted by the Nous Group in conjunction with the Centre for Policy Studies for the Regional Universities Network (RUN) demonstrated the importance of the University.
"The University is proud to contribute more than $230 million in real GDP in productivity and generates an additional 1000 jobs in our campus regions," Professor Bartlett said.
Nine more graduation ceremonies at Mt Helen (14 to 17 May) and Gippsland (24 May) will follow the Regent Theatre ceremony.
Interviews and photographs with FedUni graduates can be arranged by contacting Matthew Freeman on 5327 9510 or 0408 519 674.