Media releases
Ballarat Tech School hosts Career Achievement Awards
Posted: Wednesday 2 May 2018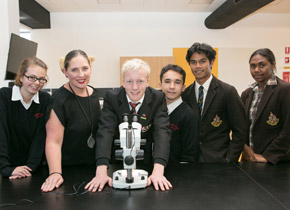 The Ballarat Tech School has hosted the CSIRO STEM Professional Career Achievement Awards at the SMB Campus.
"A shared commitment, dedication and collaboration are essential to improving STEM education outcomes," Sofia Fiusco, Director of Ballarat Tech School, said.
"Partnerships with key stakeholders such as the CSIRO and the Aboriginal Education Centre at FedUni are critical in building student awareness about STEM by giving them access to high-quality facilities, leading researchers and real-world contexts."
Local indigenous students were inspired at the Awards by Dr Misty Jenkins who attended Mt Clear Secondary College.
"The Aboriginal Education Centre is honoured to be supporting the award ceremony for Dr Misty Jenkins, Winner of the Aboriginal and Torres Strait Islander STEM Professional Career Achievement Award, presented by CSIRO and BHP Billiton Foundation," Jasmine Graham, Manager of the University's Aboriginal Education Centre, said.
"This is the perfect opportunity to profile and celebrate such an inspirational Aboriginal role model to our current Aboriginal University students and the community more broadly in the hope of encouraging our mob to believe that they can achieve whatever it is they set their sights on."
Throughout the day students examined the human body through Virtual Reality, Bushfood Food Science exploring flavourings and native plants and extracting DNA.
Dr Misty Jenkins is committed to inspiring more indigenous young people to connect to STEM subjects and be the next researcher to change science as we know it.
Ballarat Tech School is part of Federation University Australia.