Media releases
FedUni major contributor to growth of regional Australia
Posted: Sunday 29 April 2018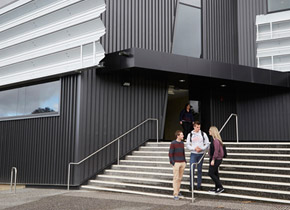 Federation University Australia is a major contributor to economic productivity and employment within the regions it serves, according to a new impact study.
The economic impact study conducted by the Nous Group in conjunction with the Centre for Policy Studies for the Regional Universities Network (RUN) demonstrated the impact and importance that Federation University Australia, Victoria's only regionally headquartered university, has on the economic development of the regions in which its campuses are located.
"Federation University Australia contributes more than $230 million in real GDP in productivity and generates an additional 1000 jobs in our campus regions," Professor Helen Bartlett, Vice-Chancellor, said.
"Our economic impact is even greater than the study identified, as it only considered the impact of domestic higher education students and did not factor in the multi-million dollars in GDP contributed by our international and TAFE students.
"Most of our students stay and work in the regions where they studied, contributing to the local economy. In total, 68 per cent of bachelor level and 63 per cent of postgraduate-level FedUni graduates will go on to work in our regional areas.
"This is much more than the national average of 23 per cent of graduates from all Australian universities who work in regional Australia," Professor Bartlett said.
"The University also raises real wages across its campus regions by an average of 1.8 per cent due to the highly skilled graduates entering the workforce and the staff FedUni employs."
The study identified that FedUni research drives innovation and productivity in many aligned industries across Australia. This contributes to economic growth across the regions by generating new ideas and technologies.
"FedUni has had sustained growth in higher degree research income and publications for more than 15 years. The economic impact of this combined with the value of academic time spent on research and the development of our Tech Parks in Ballarat and Gippsland is significant to our regions," Professor Bartlett said.
"In Ballarat, excluding TAFE, international students and our two Tech Parks, the economic contribution made by the University is four per cent, which is roughly the same as that of primary industries in the region."
The study undertook individual productivity assessments of all the universities in RUN – CQUniversity, Federation University Australia, Southern Cross University, University of New England, University of Southern Queensland, and the University of the Sunshine Coast.
The six universities educate around 115,000 higher education students each year – about nine per cent of all university students nationally.
The universities spend $1.59 billion and students spend $480 million in campus regions. RUN universities deliver an additional $1.7 billion to real GDP in their regional economies.
A report summary is at http://www.run.edu.au/cb_pages/publications.php