Media releases
FedUni Education students excel in Literacy and Numeracy Test
Posted: Tuesday 24 April 2018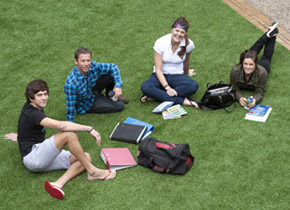 Education students from Federation University Australia have performed above the national average in the Federal Government's Literacy and Numeracy Test for Initial Teacher Education.
More than 23,000 teaching students throughout the nation sat the Test last year to assess whether they had literacy and numeracy skills in the top 30 per cent of the adult population.
In a result that puts the University amongst the best performers in Victoria, 93.6 per cent of FedUni Education students passed the Literacy Test and 93 per cent passed the Numeracy Test.
"These results are strong confirmation of the high quality of FedUni's education programs and teaching staff," Professor Andy Smith, Deputy Vice-Chancellor (Academic), said.
"Our excellent teaching quality, mentor programs and moderate class sizes enable our Education students to receive the best possible tertiary experience.
"These good results are no surprise to the University. A graduate's success is more dependent on their educational experience at University rather than their ATAR leaving secondary school," Professor Smith said.
"FedUni congratulates our Education students and we wish them well in the exciting careers they no doubt have ahead of them."