Media releases
Groundwater data exchange to be relaunched
Posted: Monday 9 April 2018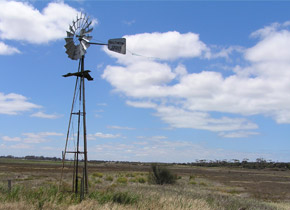 The updated and modernised Visualising Victoria's Groundwater portal will be launched by Associate Professor Peter Dahlhaus from Federation University Australia on Tuesday, 10 April.
"The new portal will now include an on-line library of resources, a spatial map interface and a data download catalogue," Associate Professor Dahlhaus said.
"The system we created is an ongoing experiment in data democracy.
"It helps provide the evidential basis for community debates around the groundwater impacts of energy resource developments, urbanisation and changing climates."
The portal was first launched in 2013, providing access to groundwater data from disparate sources
Associate Professor Peter Dahlhaus is Principal Research Fellow at the Centre for eResearch and Digital Innovation at Federation University Australia.
He has expert knowledge of the groundwater and hydrogeological setting of southwest Victoria and has been influential in applying his scientific knowledge to direct policy on salinity and catchment management.
Associate Professor Dahlhaus' current research focuses on spatial data interoperability and visualisation to ensure that environmental data, information and knowledge is globally and publically available.
The launch will take place at RMIT's City Campus from 5.30 pm on Tuesday, 10 April.