Media releases
Girls in Physics Breakfast held at FedUni
Posted: Thursday 5 April 2018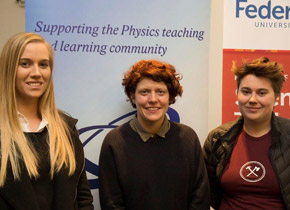 More than 70 young Western Victorian women have gathered in Ballarat to share and celebrate their enthusiasm for physics.
The Ballarat event was one of a series across Melbourne and regional Victoria, encouraging school girls to meet with young women in the early stages of a physics-based career in the hope that they will be inspired to continue studying physics through the rest of school and into university.
The Girls in Physics Breakfast was jointly coordinated by Federation University Australia's Faculty of Science and Technology and the VicPhysics Teachers Network.
"The Ballarat breakfast is one of a series of six across Melbourne and regional Victoria this year," Dan O'Keeffe from VicPhysics said.
"In previous years we have held the Girls in Physics breakfasts only in metropolitan Melbourne but FedUni and our other partner institutions were confident that we would also have huge interest in regional areas."
Girls from Year 10 to 12 shared a table with local women in the early stages of a career in science or engineering. The breakfast gave students and the young women a chance to chat about career options, university life and working in STEM in regional Australia.
The women attending come from local organisations which provide research and manufacturing services in industries as diverse as health, agriculture, teaching, food processing, transport, mining and mechanical systems.
"We have fifteen young women attending the breakfast as mentors," Stephanie Davison from the Faculty of Science and Technology said.
"One of the spin-off advantages of this event is that the young women will come together themselves for the first time, have a chance to connect with each other and join the growing network of STEM professionals in the district."
The breakfast also included an address by Dr Elizabeth Hinde, laboratory head within the Department of Biochemistry and Molecular Biology, University of Melbourne.
Dr Hinde (pictured centre) explained what fluorescence microscopy is, how it works and what it reveals in relation to her work studying the genetic control of protein assembly and how errors can lead to the development of cancer.
The students at the breakfast were from Ballarat Grammar, Ballarat High School, Beaufort Secondary College, Damascus College, Kurunjang College in Melton, Marian College in Ararat, Maryborough Education Centre, Murtoa College and Phoenix P-12 Community College.