Media releases
Leading TAFE students receive awards
Posted: Monday 19 March 2018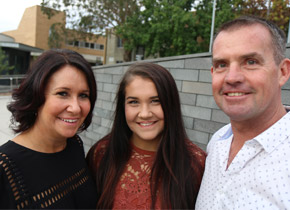 Thirty awards to some of Federation University Australia's leading students have been presented at the 2018 TAFE Awards for Excellence at the Mt Helen Campus.
The awards, which recognise major achievements in TAFE study at the university, are nominated by FedUni TAFE and Federation College.
The 2018 Craftsperson Awards also were presented. These awards are a joint initiative of the University, City of Ballarat and the Rotary Club of Ballarat.
"I am delighted to congratulate all of our award winners and wish them well in their careers," Barry Wright, Executive Director of FedUni TAFE, said.
"The students' success is testimony to their hard work and the skill and dedication of our TAFE teachers.
"Our state of the art facilities are attracting a growing number of students each year."
The ceremony also included presentation of the Apprentice of the Year, Rotary Club of Ballarat South Scholarships, the Brian McLennan Scholarship and the EJT Tippett Outstanding Achievement Award.
Picture: Apprentice of the Year Alyssa Heard (centre) with parents Sally and Ashley Heard. Alyssa completed a Certificate III in Commercial Cookery.
The award recipients were:
The Rotary Club of Ballarat Endeavour Award
Jaymee Violet Rodriguez
Certificate III in Engineering - Fabrication Trade
The Brian McLennan Arts Scholarship Award
Demi Gerardi
Diploma of Graphic Design
The Graeme Douglas Award
Sponsored by Ballarat NASHO's
Lauren Henderson
Certificate III in Cabinet Making
The Rotary Club of Ballarat South Scholarship
Sam Bigham
Certificate III in Electrotechnology Electrician
Lauren Henderson
Certificate III in Cabinet Making
Jai Sharp
Certificate III in Carpentry
Michael Langley
Certificate III in Cabinet Making
Graham Watson
Certificate III in Carpentry
Federation University Australia Apprentice of the Year
Sponsored by Rotary Club of Ballarat South
Alyssa Heard
Certificate III in Commercial Cookery
City of Ballarat Trainee of the Year Award
Robert McLennan
Certificate III in Food Processing
EJT Tippett Outstanding Achievement Award
(Vocational Student of the Year)
Tania Stewart
Diploma of Conservation and Land Management
Alfred Mica Smith Award
Ram Karnawat
Advanced Diploma of Building Design (Architectural)
Brinsden, Sergeant, Ironworkers Award
Ben Johannsen
Diploma of Engineering (Technical)
Elizabeth Thomas Prize
Emma Glisson
Diploma of Business and Diploma of Business Administration
Frank Pinkerton Award
Demi Gerardi
Diploma of Graphic Design
Leo Shannon Memorial Award
Luke Polmear
Certificate III in Plumbing
LFJ Hillman Award
Sam Bigham
Certificate III in Electrotechnology Electrician
Ronaldson Bros. and Tippett Founders Prize
Oden Cornwill
Certificate III in Engineering – Fabrication Trade
Agrimac Ballarat Award
Bailey Cossar
Certificate III in Agriculture
Ballarat Horticultural Society Award
Daniel Kraus
Certificate III in Horticulture
Ballarat Books Hospitality Award
Tracey Coats
Certificate III in Patisserie
Ballarat Books Education Award
Jack Donne
Diploma of Professional Writing and Editing
Eclipse Ford Award
Eleanor Jewers
Certificate II Automotive Vocational Preparation
Federation College Growth Award
Liam McPhan-Smith
Victorian Certificate of Applied Learning (Senior)
Shayne Pedrotti
Certificate III in Plumbing
Dura Wear (Commercial Cookery) Award
Chloe Flavel
Certificate III in Commercial Cookery
Dura Wear (Apprenticeship) Award
Sally Doyle
Certificate III in Commercial Cookery
Hip Pocket Award
Micayla Gregory
Certificate III in Commercial Cookery
Highlands LLEN Encouragement Award
Gabriel Gervasoni-Frank
Victorian Certificate of Applied Learning (Intermediate)
Laminex Australia Award
Cale Watt
Certificate III in Joinery
Natures Cargo Award
Carollyn Nunn
Certificate III in Commercial Cookery
Robert Sim Building Supplies Award
Joshua Byron
Certificate III in Carpentry
Jack Donald
Certificate III in Carpentry
Kelly Lyle
Certificate III in Carpentry
Benjamin Garwood
Certificate III in Carpentry
Corey Wilkinson
Certificate III in Carpentry
TB White & Sons Award
Nathan Lilley
Certificate III in Agriculture
Wiltronics Research Award
Corey Mann
Certificate III in Electrotechnology Electrician