Media releases
FedUni researcher seconded to Agribusiness Gippsland
Posted: Wednesday 14 March 2018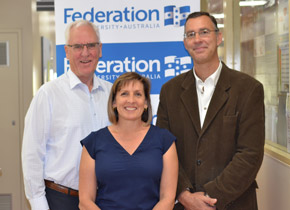 Agribusiness Gippsland (AGI), in partnership with Federation University Australia, has announced that Veterinary Science Lecturer, Dr Danielle Auldist, has been seconded to the role of Executive Officer of AGI.
Dr Auldist will fill the role during a consultancy review. The review will consider closer alignment of AGI and the East Gippsland Food Cluster and how they represent Gippsland's $7 billion food and fibre sector.
"This appointment has occurred as a result of the close working relationship between AGI and FedUni's Business Development and Partnerships Unit and its Animal Health, Ecology and Diagnostics collective called AHEaD," Dr Auldist said.
"AHEaD is about focussing the capacity of our FedUni researchers on the challenges and opportunities for the agribusiness and animal industry sectors in Gippsland.
"I am looking forward to working with AGI because of its important role in promoting prosperous and sustainable agribusiness in Gippsland. It is a logical link with FedUni's AHEaD group and what it can contribute to Gippsland."
Paul Ford, Chair of AGI, said: "We are delighted that Danielle will join us while consultancy review is underway.
"She is a highly respected and effective leader in Gippsland's food and fibre sector and has an extensive network of contacts across the region.
"Danielle was a key member of the group that developed the Gippsland Food Plan and she is highly motivated to turn that plan into action that unlocks growth in productivity and jobs," Mr Ford said.
"The Agribusiness Gippsland Board is grateful to Federation University Australia for proactively supporting this secondment."
The University also has been working with Agribusiness Gippsland on creation of a Gippsland Agribusiness Hub. The hub would serve as a single gateway to unlocking the potential of Gippsland's $7 billion food and fibre sector.
It will be designed to provide a connection with key stakeholders and end users at a regional level to connect with more than 2000 scientists and food and fibre specialists.
Creation of the Hub is a key element of the strategy for lifting local sector productivity from less than one per cent per annum to three per cent.
Picture: Paul Ford, Danielle Auldist and David Piedrafita