Media releases
New teacher education book to be co-edited by leading FedUni academics
Posted: Tuesday 13 March 2018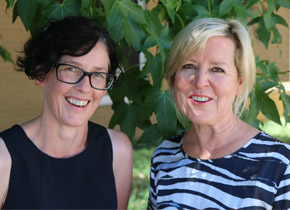 Federation University Australia's Associate Professor Robyn Brandenburg and Dr Sharon McDonough will release a major teacher education book with leading education publishers SpringerNature.
The forthcoming edited volume, Ethics, Self-Study and Teacher Education will be part of the highly regarded International Springer series, Teaching and Teacher Education Practices.
The book will offer a detailed examination of the role of Ethics in Teacher Education Research and Practice and will include international contributions from Europe, the US, New Zealand, Iceland and Australia.
"This book analyses research-based evidence related to the role of ethics in teacher education research," Associate Professor Robyn Brandenburg said.
"It will focus on key questions related to what it means to be an ethical researcher and the ways in which teacher education researchers address tensions and dilemmas in their research and teaching practice."
Dr Sharon McDonough said: "In contrast to many of the publications that consider the role of ethics in research, this book will move beyond a 'how to' guide about ethics, and be a collective volume that examines the nuanced and situated experiences of self-study researchers".
Associate Professor Robyn Brandenburg, pictured right, and Dr Sharon McDonough, left, are both from the University's Faculty of Education and Arts.
Their recent books include Reflective Theory and Practice in Teacher Education (2017, Brandenburg, Glasswell, Jones & Ryan (Eds.), Springer; Teacher Education: Innovation, Intervention and Impact (Brandenburg, McDonough, Burke, & White (Eds., 2016, Springer ) and Mindfulness in the Academy: Practices and Perspectives from Scholars (Lemon & McDonough (Eds.), forthcoming 2018, Springer).
The book will be finalised by December and released early in 2019.