Media releases
FedUni and HRL Technology sign collaborative agreement
Posted: Thursday 22 February 2018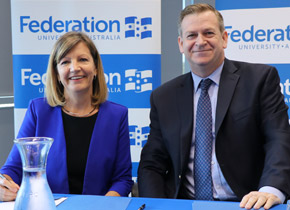 Federation University Australia and HRL Technology Group are set to sign a Collaborative Agreement that will lead to the establishment of a Gippsland Additive Manufacturing Centre of Excellence.
The new centre will provide a focus for transformative technology in manufacturing and provide opportunities for practical development and learning in the field.
Professor Helen Bartlett, the University's Vice-Chancellor; Paul McPhee, Chief Executive Officer of HRL Technology Group; and Jeff Pulford, Executive Director of Technology Park, will officiate at the signing ceremony.
They will be joined by senior representatives from the Latrobe Valley Authority, Regional Development Victoria and Latrobe City Council at the ceremony.
"The proposed Gippsland Additive Manufacturing Centre of Excellence is designed to be a partnership between FedUni and HRL. It will be located within the Gippsland Enterprise Centre, Churchill," Professor Helen Bartlett, Vice-Chancellor, said.
"The Collaborative Agreement allows for HRL to engage FedUni engineering students in short and long term projects.
"In turn, FedUni will support HRL staff to undertake research education and training at FedUni's Gippsland Campus," Professor Bartlett said.
"The objective of this partnership is to further enhance the already strong high performance materials focus present in Gippsland."
In addition to process engineering and laboratory analytical services, HRL Technology provides complete and integrated metallurgy, materials, welding, structural and mechanical engineering consulting and testing services.
Drawing on expert understanding of materials behaviour, HRL Technology assesses plant condition, corrosion, fitness-for-service, remaining life and develops and implements inspection programs, that can identify and limit expensive plant failures.