Media releases
Employers rate FedUni graduates number one in Australia
Posted: Wednesday 17 January 2018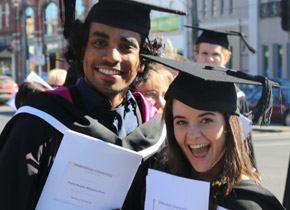 Employers are overwhelmingly impressed with the skills Federation University Australia graduates have when entering the workforce after graduation.
The 2017 Employer Satisfaction Survey (ESS), released last week by the Federal Department of Education and Training found that FedUni graduates are among Australia's best, outperforming many of the Group of Eight universities in key areas.
Employer supervisors rated FedUni graduates 93.9% for Employability skills, 98.5% for Technical skills and 96.9% for Adaptive skills. These ratings are the best in Australia for key graduate attributes.
FedUni students are job-ready when entering the workforce. They are ranked by the ESS as Australia's leading graduates in their ability to work under pressure, meet deadlines, demonstrate initiative, develop innovative ideas and demonstrate leadership and management skills.
Professor Helen Bartlett, Vice Chancellor and President, said the University was justifiably proud of the 2017 ratings, especially when compared to larger capital city institutions.
"We are extremely proud of these results, which demonstrate our commitment to ensuring graduates are well prepared for their chosen careers," Professor Bartlett said
"FedUni degrees are well regarded by industry because they offer industry experience, internships and placements which provide real life exposure to relevant workplaces.
"Coupled with our smaller class sizes providing a personalised learning experience, extensive careers services and industry links with organisations such as IBM who are located at our Technology Park, FedUni is well placed to respond to rapidly changing industry and business needs," Professor Bartlett said.
Not only are employers satisfied with FedUni graduates entering the workplace, but the survey results support QILT statistics where FedUni is ranked number one in Victoria for Employment, Median Starting Salary of AU$60,000, Student Support and Teaching Scale.
The Employer Satisfaction Survey is the largest and most comprehensive survey of employer perceptions of graduate employees, and the only one based on direct experience of graduates' work.