Media releases
FedUni announces new High Achievers Scholarships
Posted: Thursday 14 December 2017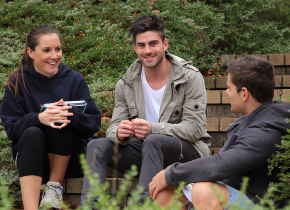 To coincide with the release of VCE results, Federation University Australia has announced a range of scholarships of up to $18,000 each for high achieving students.
The FedUni High Achievers Scholarships will be offered to students who have been dux of their school or achieve an ATAR of more than 80.
Students who receive an ATAR of more than 90 will qualify for a scholarship totalling $18,000. This will include $5000 in cash, one year's accommodation at FedUni Living at Ballarat, Berwick or Gippsland, and a range of academic supplies, lifestyle products, career services and professional development.
Other scholarships totalling $13,000 for those who receive an ATAR of more than 80 also will include one year's accommodation and the same range of products.
"These scholarships are great recognition of the many high achieving students who apply to FedUni and are an exciting innovation that will appeal to many of our students throughout regional Victoria and beyond," Jamie McDonald, the University's Director of Marketing, Advancement and Community Engagement, said.
"Students who achieve the required ATAR and have put FedUni as a VTAC preference will be eligible for a scholarship."
FedUni is proud to offer its students:
More than 400 courses to choose from
Small class sizes for a more engaging experience
Smooth transition into university life with programs offered by Student Futures
Career and employment services
Our Industry Placement Program and Professional Practice degree, which provide paid industry experience and job-ready skills
Clubs and Societies to get involved in
Federation University Australia is a very strong performer in national university rankings.
According to the Federal Government's Quality Indicators for Learning and Teaching rankings (QILT), FedUni ranks number one in Victoria for Overall Employment and Median Starting Salary.
Further information about the High Achievers Scholarships is available at federation.edu.au/highachievers.
Students with an ATAR of 79.95 or below who are the dux of their school can also register their details at this site for the scholarships.
To learn more about studying at FedUni visit federation.edu.au or call 1800 333 864.