Media releases
University to host forum with external partners
Posted: Monday 4 December 2017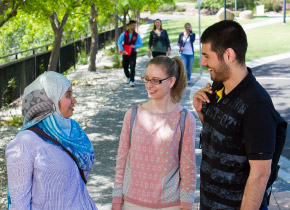 Federation University Australia will host a special forum with its external partners on 11 and 12 December to share ideas and enhance student success.
The 2017 FedUni Partner Forum at the Mt Helen Campus will be an interactive event providing professional development and networking opportunities for FedUni staff and the University's partner providers.
"This year's partner forum theme is Enhancing Success. On display this year will be a range of best practice, research outcomes and initiatives that have been implemented," Dr Jessie Harman, the University's Pro Vice-Chancellor (International and Partnerships), said.
"There also will be a special focus on optimising the success of partner programs through academia, student support, quality, administration and operations."
Dr Harman said partner provider programs enabled international students to undertake FedUni programs in their own country and obtain a FedUni degree upon completion.
"The University has formed off-campus and international partnerships with providers in Australia, Asia and the South Pacific," Dr Harman said.
"Our business and information technology schools were the first to initiate these partnerships and have become an important part of our delivery."