Media releases
FedUni ambassadors add support to White Ribbon campaign
Posted: Wednesday 29 November 2017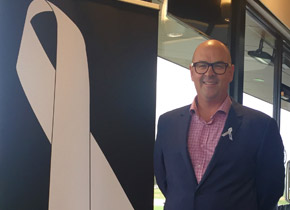 Phil Cleary, a long-time campaigner to stop violence against women, was guest speaker at a recent White Ribbon Day breakfast in Ballarat attended by Federation University Australia representatives.
"It was a great occasion to listen to Phil's very powerful message about stopping violence against women," Colin Marshall, Director of Campus Life, said.
"As a White Ribbon-accredited organisation, the University is proud to support Phil and other campaigners in this important and challenging field."
A former teacher and Independent Member of Federal Parliament, Phil Cleary has had a long association with football as a premiership player and coach with Coburg.
Since the murder of his 25-year-old sister, Vicki, in 1987 Mr Cleary has been at the forefront of the campaign to stop violence against women.
He is currently a member of the State Government's Victim Survivors' Advisory Council and speaks regularly at schools, football clubs and workplaces about how we can bring an end to violence against women.
During the breakfast Mr Marshall (pictured) was confirmed as a new White Ribbon Ambassador.
"Our accreditation recognises the work that we undertake as an institution contributing to cultural change to prevent and respond to violence against women," Mr Marshall said.
"FedUni staff and students and in particular males are encouraged to support White Ribbon and help build an aware and safe workplace in which violence against women is not tolerated.
"In taking the oath I have committed to standing up, speaking out and acting to prevent men's violence against women."
Mr Marshall joins Adrian Tinetti, Director of Corporate Governance, and Andrew Henwood, TAFE Business Manager, as the University's White Ribbon Ambassadors.