Media releases
Country Women's Association announces scholarship for Gippsland students
Posted: Thursday 23 November 2017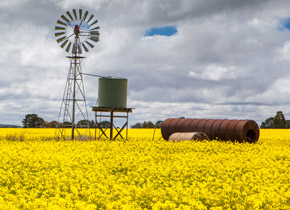 Students from Federation University Australia's Gippsland Campus will be eligible to apply for a new scholarship program announced by the Country Women's Association (CWA).
The CWA Latrobe Central Group Scholarship will be made available to female students living and studying, or committed to studying, at the University's Gippsland Campus.
The $3,000 scholarship will be targeted towards mature-aged female students commencing their second year of an undergraduate degree at the Campus.
"The University is very appreciative of this generous scholarship provided by the CWA," Jerry van Delft, Director of Student Connect, said.
"I am confident the recipient will be a very deserving student who will utilise the assistance to further their studies."
CWA Latrobe Central Group President, Isobel Simon, said it gave her much pleasure to support this Group-funded scholarship.
"Caring for women and children, firstly within our local communities, and then further afield, has always been the main aim of this organisation, which next year celebrates its 90th anniversary since its inception in Victoria," Ms Simon said.
"At our 2017 August Group Conference the motion to accept this scholarship as a Group Project was passed unanimously. The fourteen branches (four of which are evening branches), that make up this group are contained in an area stretching from Bunyip to Gormandale."
The idea for the Scholarship initially came from the CWA's Traralgon Evening Branch, which is made up of young women, some with families, who enjoy a social catch up and raising funds for and awareness of organisations in the area that support at-risk women and families.
Preference for the scholarship will be given to students facing hardship due to family or caring responsibility or students returning to study after a period of family or caring responsibilities.
Further information is available from www.federation.edu.au/scholarships - applications close on 19 January 2018.
Anyone interested in applying for the scholarship is advised to contact the Scholarships team on 03 5327 9340.