Media releases
Casey students show their smarts at FedUni
Posted: Tuesday 21 November 2017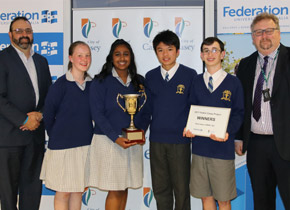 Federation University Australia together with the City of Casey provided high school students with a taste of university life.
The 2017 FedUni Casey Project saw almost 100 Year 9 students from five schools across the shire take part in a two-month project at FedUni's Berwick Campus.
The project, a partnership between FedUni and the City of Casey, saw high school students spend time on campus, meeting with academics and attend lectures before completing a group assignment on the theme: What makes a SMART City?
The FedUni Casey project aims to enhance students' knowledge and skill in applying critical thinking and ethics, problem solving, developing interpersonal relationships as well as communicating effectively as a team.
This year's project culminated at a presentation night at the Berwick Campus recently with 1st Waverley Christian College named 2017's winners for their assignment on water quality.
Their winning pitch to judges highlighted a device, which when placed in local waterways monitors the pH quality and alerts authorities when the water is too acidic or basic.
The winning group of students, (pictured) Van Rossen, Neha Vellu, Andrew Lian and Joshua Fowler, were presented with the official FedUni Casey Project trophy.
FedUni Berwick Campus Manager & Director of Strategic Planning, Greg Jakob, said the program was a wonderful opportunity to expose young minds to what life was like at a higher education institution such as Federation University Australia.
"The Project is designed to challenge students to think outside the box and come up with creative solutions and opportunities to real-life problems, specifically for the City of Casey," Mr Jakob said.
"The presentations were inspiring and we look forward to working with local high school student to help them realise their ambition. Congratulations to all our finalists."