Media releases
Nepal National Trust welcomed at FedUni
Posted: Monday 6 November 2017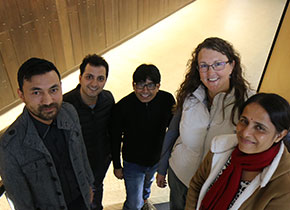 Representatives from Nepal's National Trust for Nature Conservation have met with Federation University Australia's wildlife conservation researchers at the Gippsland and Mt Helen Campus.
Mrs Sarita Jnawali, Director of Conservation Programs, and Dr Chiran Pokheral, Project Manager at Chitwan National Park, Nepal, met with Associate Professor Wendy Wright and other staff from the University's Faculty of Science and Technology.
"The University and the NTNC have a Memorandum of Understanding which supports our researchers contributing to projects in Nepal and for NTNC staff to complete relevant Masters and PhD qualifications here at FedUni," Associate Professor Wright said.
"FedUni undergraduate students enrolled in relevant programs may also have the chance to visit NTNC's field stations in Nepal as plans to develop internships and fieldwork components are finalised."
Existing FedUni PhD students from Nepal, Himalaya Singh and Shirish Sharma, also were pleased to have the opportunity to discuss future research opportunities in their home country with the visitors.