Media releases
FedUni bricklaying student third best in the world
Posted: Sunday 22 October 2017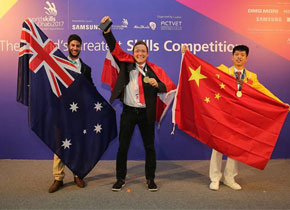 Federation University Australia TAFE students are amongst the world's best following the presentation of a bronze medal to Trystan Sammut at the 44th WorldSkills Competition in Abu Dhabi.
Trystan, a member of the 18-strong Australian Skillaroos team, came third internationally in the bricklaying category.
"The University congratulates Trystan on this absolutely magnificent achievement," Associate Professor Barry Wright, Executive Dean of FedUni TAFE, said.
"To be placed third in the world is testimony to Trystan's skills and dedication, as well as the superb training he received from us at FedUni in Ballarat.
"Trystan also has been greatly assisted by his employer, Lawler Bricklaying, and the Australian Brick and Bricklaying Foundation," Associate Professor Wright said.
"We look forward to honouring Trystan when he returns to Australia."