Media releases
FedUni Gippsland a key site to monitor thunderstorm asthma
Posted: Monday 30 October 2017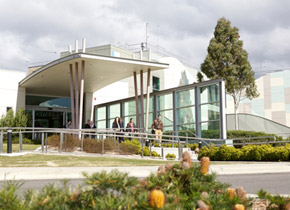 Federation University Australia's Gippsland Campus is one of eight sites in Victoria that form part of a sophisticated thunderstorm asthma monitoring system launched earlier this month.
A new pollen trap, now installed at FedUni Gippsland Campus, will help to provide Victorians with early warning of possible thunderstorm asthma events this spring.
Thunderstorm asthma occurs when the perfect blend of conditions are met: a high pollen count in the air, humidity and a northerly wind.
When thunderstorm asthma strikes, pollen grains absorb moisture and explode into tiny particles.
Storm activity scatter the particles into the air, sweeping them across far distances, where they can be inhaled deep into the lungs making it hard for victims of hay fever and asthma to breathe.
The early warning system has been rolled out across Victoria to prevent a repeat of the tragedy which saw 8,500 people hospitalised and claimed nine lives in last November's freak weather event.
It takes into account weather conditions, hospital presentations and pollen count with the aid of pollen traps installed at key locations across the state.
Head of Applied and Biomedical Sciences, Federation University Australia, Gippsland Campus, Associate Professor Jennifer Mosse said the new pollen trap provides daily measurements of pollen levels in eastern Victoria, needed for accurate calculation of thunderstorm asthma risk.
On high pollen count days, health professionals advise asthma and hay fever suffers to avoid exposure to allergens, by staying inside with the windows and doors shut.
Asthma sufferers should always carry their reliever medications; hay fever sufferers should be alert for the potential development of asthma symptoms.
FedUni will continue to monitor pollen activity until the end of December during the Victorian grass pollen season.
To access the forecasts, download the Vic Emergency App or visit www.emergency.vic.gov.au/prepare