Media releases
FedUni staff honoured in Wurreker Awards
Posted: Friday 13 October 2017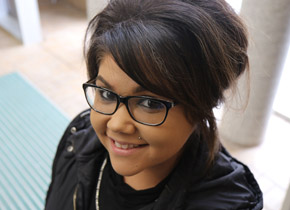 Two Federation University Australia staff members have been recognised in the 2017 Wurreker Awards.
These Awards provide an opportunity each year to celebrate the achievements of individuals and organisations in the field of Koorie further education.
FedUni staff members Martin Perkins and Ashlee Rodgers (pictured) have been honoured this year.
Martin Perkins, a VET teacher in Information Technology, received a Teacher / Trainer award.
Ashlee Rodgers, Indigenous Liaison Officer, also received a Public Sector Employee Award.
"Both Martin and Ashlee have been outstanding ambassadors for the university over many years," Geoff Lord, Head of the Wimmera Campus, said.
"We congratulate them on their awards, which they both thoroughly deserve."
The VAEAI Wurreker Awards were held in Melbourne with the Official Address given by Gayle Tierney, Victorian Minister for Training and Skills and Minister for Corrections.
Wurreker Awards are an integral part of the Victorian Government Wurreker Strategy's vision to enable training for the Koorie community supporting pathways to employment, Koorie community development, individual learner success and self-determination.
The FedUni finalists highlight the University's commitment to the achievement of these goals.