Media releases
Federation University Australia wears White Ribbon with pride
Posted: Friday 6 October 2017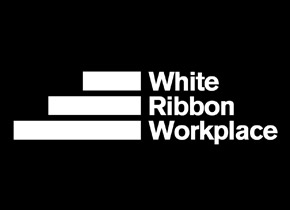 Federation University Australia is proud to announce it is now an accredited White Ribbon Workplace and stands firmly against violence against women.
The White Ribbon Workplace Accreditation recognises FedUni's effective leadership, resource allocation, communication, HR policy development and training to create a safer and more respectful workplace.
Professor Todd Walker, Deputy Vice-Chancellor (Engagement), said the White Ribbon Workplace Accreditation acknowledged FedUni's role in continuing to help reduce violence against women both inside and outside the university community.
"The University is now officially recognised by White Ribbon Australia as contributing to national cultural change needed to prevent and respond to violence against women," Professor Walker said.
"Raising community awareness of domestic and family violence is a key step toward preventing this form of abuse. Together we can all help to eliminate violence against women."
Professor Walker, who is also a White Ribbon Ambassador, acknowledged the great work of the steering group in securing the accreditation
"The steering group will now develop an operations plan relating to staff training and White Ribbon events," he said.
White Ribbon is the world's largest male-led movement to end violence against women. Originating in Canada in 1991, White Ribbon is now active in more than 60 countries.
The White Ribbon Workplace Accreditation program encourages organisations to improve their culture toward violence against women, reduce bullying and harassment and to promote respectful relationships.