Media releases
FedUni to host Living with Bushfire Community Conference
Posted: Monday 25 September 2017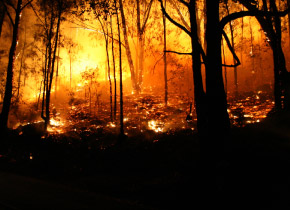 For the first time in its four-year history, the Living with Bushfire Community Conference will be hosted in Western Victoria.
Federation University Australia's Mt Helen Campus will host the event on Friday 6 and Saturday 7 October.
The conference will provide an interactive opportunity for residents and communities, land and fire managers, emergency agencies, researchers and educators to come together to gain valuable insight and practical knowledge about living with bushfires.
The community conference has an important role in increasing the preparedness of communities for the upcoming fire season and beyond.
Conference attendees will have the opportunity to hear from a wide range of people involved in many different aspects of bushfire to gain valuable knowledge and understanding of bushfire.
There will be a series of practical workshops designed for residents to increase their understanding and preparedness for bushfires.
"FedUni is very pleased to host this extremely important conference to our communities," Professor Mark Sandeman, Executive Dean of the Faculty of Science and Technology, said.
"Bushfires are a constant threat to Victorians so we are pleased to play a major role in furthering research and collaboration, and in engaging with our community in this area."
Guest speakers at the conference will include:
Craig Lapsley, Victoria's Management Commissioner, providing a statewide emergency management overview;
James Pescott of the Bureau of Meteorology delivering the coming fire season outlook;
Brett Boatman CFA, discussing expectations of the community when fires happen;
Scotsburn residents providing accounts of their experience during and following the Scotsburn bushfire; and
Rachaele May, Assistant Chief Fire Officer of Forest Fire Management Victoria discussing the Safer Together program and how agencies and communities can work together.
"This conference will not just consider the science and management of bushfires but also their social, psychological and environmental impact," Dr Grant Palmer, Deputy Head of the School of Applied and Biomedical Sciences, said.
"The conference is pitched at bringing together the expertise of fire agencies together with the knowledge of local communities, so that effective and successful partnerships are established and communities are engaged and informed."
The Living with Bushfire Conference is a joint initiative of FedUni, Local Governments including the City of Ballarat, Moorabool, Pyrenees, Hepburn and Golden Plains; the CFA, Department of Environment, Land, Water and Planning, Forest Fire Management Victoria, Parks Victoria and Victoria Police.
Registrations are available via the conference website at www.federation.edu.au/bushfireconference