Media releases
FedUni academic among top national uni teachers
Posted: Thursday 21 September 2017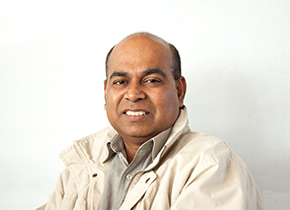 Federation University Australia's Associate Professor Singarayer Florentine has been recognised as one of the nation's top teachers by being awarded the prestigious Citation for Outstanding Contribution to Student Learning by the Australian Award for University Teaching.
Associate Professor Florentine from the University's School of Applied and Biomedical Science received the Federal Government award for his outstanding teaching record.
He was recognised for his for the development of highly innovative curricula, resources, services and practical experiences in the field of restoration ecology that are linked to high-quality work readiness student outcomes.
Associate Professor Florentine's research has identified that restoration and rehabilitation are the most significant practical opportunities for meeting global conservation goals for current and future environmental students, employees and managers.
He has developed flexible internal and external curriculum learning opportunities, innovative experiences, and criterion-designed authentic assessments that connect to real-world issues
These innovative approaches also have been recognised by FedUni. He was recipient of the 2016 Vice-Chancellor Award for Outstanding Contributions to Student Learning.
Associate Professor Florentine said one of the strengths of his teaching was the emphasis he place on applied aspects of the course.
"I believe it is very important to draw on a variety of speakers from industry and other organisations, and to organise short field visits to relevant sites within the local region where possible," Associate Professor Florentine said.
"Restoration and rehabilitation courses are especially amenable to this approach. The range and quality of the guest lecturers have been quite exceptional, and have included speakers who have internationally recognised credentials."
Professor Mark Sandeman, Executive Dean, Faculty of Science and Technology, said the award was "well deserved recognition for all of Florry's efforts in teaching and supervision over many years".
Associate Professor Nina Fotinatos, Director of the University's Centre for Learning Innovation and Professional Practice (CLIPP), said: "These national citation awards are extremely competitive and are underpinned by a rigorous Australian Higher Education sector peer- review assessment process.
"Singarayer Florentine's extensive experience, knowledge, leadership and innovation in the field have been well recognised by the attainment of this national and prestigious award," Associate Professor Fotinatos said.
"The award funding will enable Singarayer Florentine to further disseminate best practice in the field and expand his innovations to the broader higher education community."
Associate Professor Florentine's innovative curriculum approach has also been recognised internationally by The University of Brunei, Darussalam.
He was invited to deliver two one-week workshops on tropical rainforest restoration. He also ran two three-day workshops on tropical rainforest restoration at the Centre for Rainforest Studies.
The curriculum also has been recognised and endorsed by the Castlemaine Goldfield Mines, Ballarat, as being highly relevant to the mine rehabilitation industry.