Media releases
Arts Academy Graduating Students present two major productions
Posted: Wednesday 20 September 2017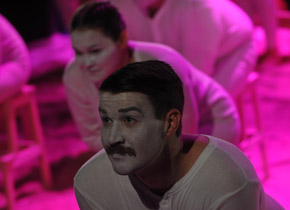 Federation University Australia is thrilled to present the future stars of Australian theatre.
In our Serious Courage season, two works by Caryl Churchill and Bertolt Brecht showcase the great spirit of independence and commitment for which Arts Academy acting students are renowned.
"Serious Money is important for Ballarat audiences to see," Director Tom Gutteridge said.
"It's a play that takes the world seriously by making it outrageously funny. It reminds us that cowboy capitalism was young once too!
"These students support each other, throw themselves into every task - like writing and recording original music for the play - and they relish a challenge.
"It is a joy to see them unleash their skills and talent on this wonderful script." Mr Gutteridge said.
Serious Money
By Caryl Churchill
Directed by Tom Gutteridge
Performed by the Graduating Third Year Actors Company, FedUni Arts Academy
22 September – 28 September
Serious Money was written in 1987, just after the deregulation of the UK stockmarket and in the same year that Gordon Gekko famously told us that 'greed is good'.
Caryl Churchill's rollicking take-down of the birth of casino capitalism is a cross between a rock musical, a murder mystery and a modern morality play.
As we live through the aftershocks of the Global Financial Collapse, Churchill's evocation of unbridled avarice and blood-thirsty competition is astonishingly relevant and current.
Written for equal numbers of men and women playing multiple roles in true ensemble style, Serious Money is the perfect play for the Arts Academy's graduating actors to show their energy, commitment and skill.
Mother Courage and her Children
by Bertolt Brecht
Directed by James Wardlaw
Performed by the Third Year Graduating Actors Company, Fed Uni Arts Academy
23 September – 30 September
The second show in the program is one of the greatest plays of the Twentieth Century.
Written at the beginning of World War Two, Mother Courage and her Children is a searing indictment of war and those who try to profit from it. With current conflicts in Afghanistan, Syria, Iraq, Yemen, Sudan, Myanmar and countless other places around the globe, the play is as relevant now as it was when written.
Its warning against profiteering speaks to the modern world, where our standard of living is upheld with the help of slave labour in the supply chain, and where we continue to seek profit from coal despite the implications of global warming.
It is the story of Anna Fierling, a woman who survived by selling provisions to troops, including clothing and items she strips from the dead.
"Everyone should see this play at least once in their life because it is entertaining and moving, and because it makes you think," James Wardlaw, Director of Mother Courage, said.
"The graduating class are a group of self-motivated, autonomous artists, who are bold, brave and very talented. Expect to see artists ready to emerge from the course and enrich the industry with their unique talents and point of view."
More details and tickets: http://federation.edu.au/eduarts-events