Media releases
FedUni to host second State Library storage site
Posted: Thursday 7 September 2017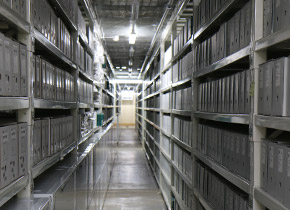 Federation University Australia is delighted to host the second state-of-the-art storage facility for State Library Victoria.
The State Library's existing storage facility at our Mt Helen Campus already holds more than half of the library's extensive collection.
This includes items of national significance such as the waistcoat worn by Captain James Cook, as well as precious local history like rare glass plate negatives that reveal early images of Ballarat.
Hansen Yuncken has been appointed to build the $21.4 million Victorian Government project, with a commitment to using local tradespeople and suppliers throughout the construction.
The new facility will provide additional storage capacity of 25-30 linear kilometres, the equivalent of running 175 lengths of the MCG. It will further protect the Library's important collection by incorporating advanced bushfire protection technology across the whole site.