Media releases
Federation College wins Innovative Schools award
Posted: Tuesday 5 September 2017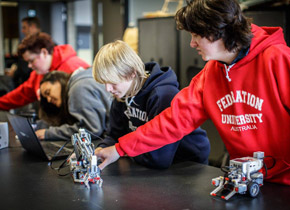 Federation University Australia's Federation College Youth Programs has been presented with a prestigious Innovative Schools 2017 award by The Educator magazine.
The College's Youth Programs have been named as one of 40 schools throughout Australia that is leading the way to prepare students for the challenges of tomorrow's world.
"The University is delighted and proud to be presented with such a prestigious accolade," Eliza Lane, Associate Director of College Programs at Federation College, said.
"It must be noted though that without the hard work and commitment of the Youth staff it would not be possible."
The University's Federation College in central Ballarat provides opportunities to senior secondary school students by teaching high quality, educational programs and courses.
These programs prepare and support students to enter into higher education and VET programs, employment, and closer and more active community engagement.
Enquiries about studying at Federation College can be directed to info@federation.edu.au