Media releases
FedUni Live > Learn> Lead program goes to Hawaii
Posted: Wednesday 28 June 2017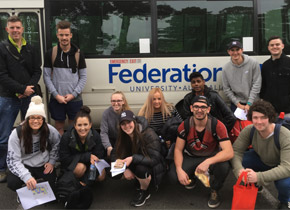 FedUni Living Residential Support team members are heading to the University of Hawaii Manoa (UHM) this week to meet their counterparts and learn about Residential Life on university campuses in the United States.
Last December the university's student residential community welcomed a group of residential student leaders and staff from UHM as part of our Live > Learn > Lead (LLL) global exchange program.
"Building on previous and existing exchange programs including those that have been developed in partnership with institutions in New Zealand, China and in other parts of the US, the FedUni Hawaii program provides an affordable personal and professional development experience for students," Colin Marshall, Director of Campus Life, said.
"The visit will enable FedUni students to learn from their peers on elements of academic, social and cultural programming and the building of social and cultural capital, thereby reducing the likelihood of assistance being required.
"Participants will also learn about how students are recruited to institutions in the US and how they are then oriented to physical campuses," Mr Marshall said.
The ways in which student support is provided throughout the student life cycle will also be explored along with how student learning, resilience, development and growth is optimised.
"I am so very much looking forward to visiting with and learning from my peers about Student Residential Communities in the US," Residential Advisor and Fourth Year Education Student Joshua Barrie said.
"Fellow Residential Leaders and I were able to learn so much when students from UHM visited with us in 2016, and I am eager to continue the learning exchange on this trip and see how I can apply some of these lessons in my role as a campus residential community leader at FedUni."
In 2016, the FedUni Live > Learn > Lead program received a prestigious Office of Learning and Teaching (OLT) Award for Programs that Enhance Learning.
The program actively engages students in educationally purposeful activities which leads to increased satisfaction levels, the acquisition of desired knowledge, enhanced skills and broad competence increases and greater persistence results.
"We know that student residential communities create great leaders and this is indeed true for FedUni Living, with residential students more likely to become involved in institutional wide leadership activities and student representation," Mr Marshall said.
"The group will visit and stay within university accommodation facilities in Honolulu, whilst undertaking the program and visiting a range of sights and attractions.
"Activities on the agenda include exploring a number of local university campuses, a visit to the cultural heritage museum, a homeless shelter, a trip to Pearl Harbor as well as experiencing Fourth of July festivities."