Media releases
Biodiversity Conference held at Mt Helen Campus
Posted: Friday 9 June 2017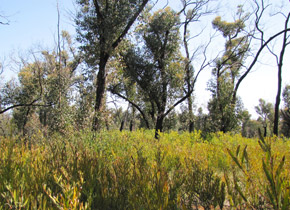 The Seventh Biodiversity Across The Borders Conference has been held at Federation University Australia's Mt Helen Campus.
Held at the University every two years, the conference is one of the leading biodiversity and ecology events in the nation.
Organised by FedUni academic Singarayer Florentine, the conference was officially opened by the University's Vice-Chancellor, Professor Helen Bartlett.
"The keynote address was presented by Emeritus Professor Sam Lake from Monash University. He spoke on the ecological restoration of aquatic ecosystems," Associate Professor Florentine said.
"Other topics discussed at the conference included woodland restoration, wetlands, floodplains, landscape transformation, vegetation and environmental law.
"The Conference is always a great opportunity for researchers and academics to network and meet with other experts in the field."
Sessions ran from 8.45 am to 4.45 pm at Founders Hall, Mt Helen Campus.