Media releases
FedUni and CAFS host PhD student presentations
Posted: Thursday 1 June 2017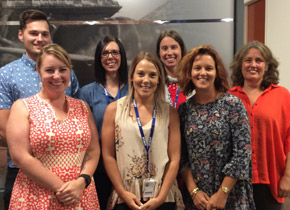 Federation University Australia and industry partners have held a Confirmation of Candidature event for PhD students at the CAFS Legacy and Research Centre this week.
The event is part of the Central Highlands Children and Youth Area Partnership (CHCYAP) Research Collaboration.
Industry partners CAFS, (Berry Street, the Victorian Government, Central Highlands Family Violence Committee and Central Highlands Family Services Alliance), along with FedUni, have funded seven Masters and PhD scholarships.
The students are undertaking research projects in the priority areas of family violence, supporting parenting and increasing attendance and engagement at kinder and school.
Two of the students presented their Confirmation of Candidature. The Confirmation of Candidature requires a PhD student to present a research proposal to a panel of academic and industry experts. The panel assesses the student's research proposal, and makes recommendations about its quality, relevance and feasibility.
Representatives from FedUni, the Department of Health and Human Services, the University of Melbourne, the Bouverie Centre (La Trobe University), CAFS, and the Central Highlands Family Services Alliance were on the panels.
Rachel Goff presented her proposal for the project 'It takes a village to raise a family: A place-based response to support families under pressure'.
Kim Cooper presented her proposal about 'Supporting children and young people in Out-of-Home Care: A study of the perspectives of foster and kinship carers'.
Carina O'Neill, who is undertaking her Masters by Research, presented an update on her research project 'Towards an understanding of user journeys: How families navigate through early childhood services in a rural Victorian city'.
"Children and Youth Area Partnerships allow a range of government departments; community organisations and health services; police; education and training providers; businesses; service users and the broader community to work together to reduce child and youth vulnerability," the University's Dr Christina Sadowski, Research Coordinator, said.
"Key stakeholders in the Central Highlands and Inner Gippsland Area Partnerships have joined with Federation University Australia to develop Research Collaborations with a total of eleven funded PhD scholarships. We are using principles of collective impact to work together to address complex social problems and aim for social change.
"This is an exciting day for the Research Collaboration. These students have been working extremely hard, with the support of academic and industry supervisors, to develop projects which will make a difference to the Central Highlands," Dr Sadowski said.
"The engagement of industry partners and CHCYAP stakeholders means that the projects focus on issues of importance to our community. We are confident that the findings will contribute to practice and policy within and beyond the Central Highlands region."
For further information, please contact Dr Christina Sadowski, Research Coordinator, Central Highlands Children and Youth Area Partnership (CHCYAP) Research Collaboration on 5327 6057 or c.sadowski@federation.edu.au.