Media releases
Asylum Seeker Pathway concert announced for Arts Academy
Posted: Wednesday 31 May 2017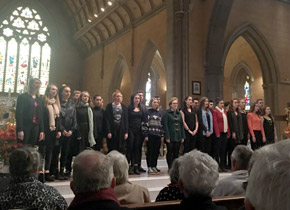 Federation University Australia's Arts Academy choir, Word of Mouth, will join Melbourne-based female vocal quartet, Pulse, in a wonderful afternoon of a Capella and contemporary harmony at the Arts Academy, Ballarat, on Sunday, 4 June.
With a range of original songs and cover arrangements, the music has a strong social justice focus, and gives voice to themes of social justice, leaving home, and finding new belonging.
Word of Mouth is a vocal ensemble consisting of students from the Arts Academy's renowned Music Theatre program.
They perform a wide repertoire of music, including arrangements and new works written specifically for the ensemble by composer and musical director, Dr Rick Chew.
Word of Mouth is like a big band of voices, freewheeling between contemporary classical, jazz, music theatre and choral theatre.
Pulse blends close, beautiful harmonies with appeals to human values, compassion and action, in a powerful combination that calls on the best in our community.
"The event will be raising funds for the Asylum Seeker Pathways Project, which helps to support asylum seeker students who find scholarships to university but are denied all Centrelink support once they are recognised as refugees," Bryce Ives, Arts Academy Director, said.
"Attending this event is an opportunity for people who are concerned about the challenges facing asylum-seekers in our country, to lend practical support.
"All funds raised will go towards day-to-day living expenses for asylum-seeker university students, who have no access to a living allowance."
Federation University Australia has led the way in working with St Joseph's Maree Program to provide scholarships to four asylum seekers to attend University in 2017.
"We have young people studying visual arts, education, humanities and social sciences and business who never thought University was ever going to be possible for them," Dr Tim Harrison, Associate Dean Research in the Faculty of Education and Arts, said.
"They are great young people who are already beginning to make a difference to the community. They are role models among other young asylum seekers and are very excited to take full advantage of the opportunity.
"It is great to meet with them, see their smiles and know how much being at uni means to them."
The choir will perform from 2.30 pm at the Post Office Theatre, Camp Street.