Media releases
Hundreds to graduate at FedUni ceremonies
Posted: Tuesday 9 May 2017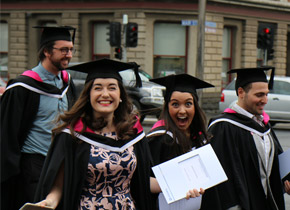 More than 1100 students will graduate from Federation University Australia's Campuses over 10 ceremonies throughout May.
The ceremonies from 10 to 25 May are a highlight of the year for graduating students and their families.
"On behalf of the university I would like to congratulate all of our new graduates and wish them well in their future careers. The University is very proud of its graduates' achievements," Professor Helen Bartlett, Vice-Chancellor, said.
"Graduations at FedUni are a time to celebrate this milestone with graduates and also acknowledge the significant part played by family, friends and loved ones in their journeys."
The first graduation ceremony will be held in Ballarat's CBD at 10.30 am, Wednesday, 10 May, at the Regent Theatre.
Graduates, FedUni leaders and academics will proceed to the Mining Exchange after the ceremony.
Graduating students for this ceremony are from the Faculty of Education and Arts; Federation Business School; FedUni TAFE; and Federation College students. The Vice-Chancellor's Award for Excellence will be presented to agriculture student Christopher Gallagher.
The second ceremony will be held at 3.00 pm, Monday, 15 May, for Science and Technology students at Founders Theatre, Mt Helen Campus.
Two ceremonies will be held each day at Mt Helen from 16 to 19 May, including a large ceremony of graduating students who have been studying a FedUni degree in Malaysia.
The final graduation ceremony will occur at 10.30 am, Thursday 25 May, at the Gippsland Campus in Churchill.
Ten PhD students will graduate throughout the May ceremonies.
Interviews and photographic opportunities with FedUni graduates can be arranged.