Media releases
University leading the field in metallurgy science
Posted: Monday 8 May 2017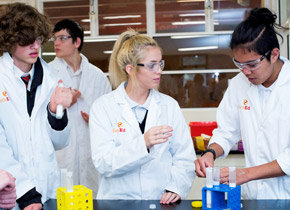 Secondary school students now have the opportunity to experience hands-on, real industry metallurgy science through a ground-breaking new program run by Earth Ed and Federation University Australia.
Recent co-operation led to the development of a four-hour program for Year 10 students about mining, geology and metallurgy.
The first offering of the program to students and teachers focused on the importance of minerals and metals to our everyday lives.
"Using metallic copper as an example, students were introduced to how the metal is won, from discovery of ores, to mining, processing and electrowinning stages, and then finally to the metal in end-use applications," Larissa Koroznikova, the University's Lecturer in Metallurgy, said.
"Using equipment in the Earth Ed laboratory, students were able to experience real life metallurgy processes via a variety of chemical reactions, and science and engineering activities related to the world of producing materials they use in their homes, phones and computers.
"The aim is to provide regional students currently undertaking Year 10 with the opportunity to discover the diverse range of careers, education pathways, and employment available across Australia, with a focus on metallurgy."
Earth Ed works on developing partnerships with industry and their various associations, such as the Australian Institute of Minerals and Metallurgy (AusIMM).
"Earth Ed also is also building relationships with University Science and Engineering Schools and have formed one with the University's Geology Department," Ms Koroznikova said.
"Earth Ed is a network of six Victorian Science and Mathematics Specialist Centres which engage students and teachers across the state in contemporary, experiential science, technology, engineering and mathematics."
The Earth Ed Ballarat team at Olympic Avenue, Mount Clear, welcomes schools to engage in learning and teaching science in new and creative ways.
The team gives students the opportunity to access equipment and study areas unavailable in a standard classroom. Visiting teachers are exposed to new teaching techniques to take back to the classroom.
The program's aim is to have a positive effect on students, inspiring them to take up STEM studies and careers.
Earth Ed's primary programs start in Years 1 and 2 with a hands on play experience that teaches the kids about force and gravity.
"In later years they experience basic things about geology, chemistry, energy, and learn to appreciate why maths are important in all things technological," Ms Koroznikova said.