Media releases
Orientation Week starts at FedUni
Posted: Monday 20 February 2017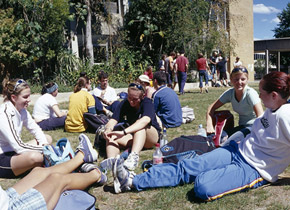 Federation University Australia's new students are set to get their first taste of university life during Orientation Week over the next few days.
To be held at the University's Ballarat, Gippsland, Berwick and Wimmera campuses, O Week activities will include market stalls, barbecues, campus tours and sports events.
"On behalf of the University I welcome all of our new students and wish them all the best during their time here at FedUni and beyond," Professor Andy Smith, Acting Vice-Chancellor, said.
"Orientation Week is the perfect opportunity for our new students to socialise, make new friends and embrace university life."
Student Experience Officers also will be on hand to assist new students and advise them on campus activities.
A major highlight of the week will be the Main Event at the Camp St Campus on Wednesday from 5.00 to 11.00 pm. Music, stalls and entertainment will be on show.
The Gippsland Campus also will have its Main Event on the Wednesday from 6.00 to 9.00 pm at the Rose Garden. The Wimmera Campus will hold a student barbecue from 12.30 to 2.00.
Berwick students can enjoy a free breakfast on Monday and Tuesday and a market stall from 11.00 am on Monday, 27 February.
It is not too late to enrol at the University for 2017 and we encourage any prospective students to contact us.
For further information about enrolling, please contact the University by emailing info@federation.edu.au or by calling 1800 333 864.
More details about Orientation Week activities are available at: http://federation.edu.au/current-students/starting-at-feduni/oweek