Media releases
FedUni pop-up centres coming to a town near you
Posted: Monday 6 February 2017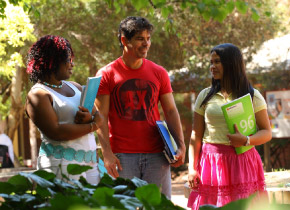 Federation University Australia is rolling out its summer 'pop-up centres' at towns and cities across Victoria to provide assistance and advice for people wanting to commence study in 2017.
Voted the number one university in Victoria for teaching quality, a record-breaking eight years in a row, FedUni is taking to the roads, parks and waterfronts of Victoria to share with people how easy it is to enrol at any of its campuses.
The travelling road show will offer a 48-hour apply direct turnaround for people thinking of studying at FedUni in 2017 or those seeking a career change.
Phill Crone, the University's Marketing Manager, said the beginning of a new year was the best time for people to commit to study and make a change in their lives or careers.
"The best time to enrol is now. We would encourage anyone who has had the most fleeting of thoughts about a degree or further study to come and have a chat with FedUni staff to discover our range of courses and just how simple the process can be.
"Often the enrolment process is the hardest for any prospective student, and that's where our pop-up centres will hopefully make it easier," he said.
FedUni recorded Victoria's highest increase in first preference applications via VTAC in January 2017 and continues to attract mature-age student enrolments.
"It's fair to say we're top of mind in Victoria, and we want to ensure we follow up that interest personally, by popping in for a casual chat, over a coffee," Mr Crone said.
"Our aim is to create a relaxing atmosphere where people feel comfortable in familiar surrounds, exploring all the study options open to them."
FedUni has six campuses in the Wimmera, Ballarat, Gippsland and Berwick. The pop-up centres will run across the state from February 7-9. View more information about our pop-up centres.