Media releases
University records Victoria-best increase in applications
Posted: Wednesday 18 January 2017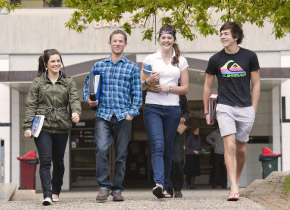 Federation University Australia has recorded a 16 per cent rise in first preference applications, the largest percentage rise of any Victorian university this year, according to VTAC figures released today.
The increase in the number of offers made this year by FedUni compared to 2016 also saw a seven per cent rise in early and main round offers.
These strong figures coincide with the launch of the University's Berwick Campus this month and the announcement of 1403 first round offers to Higher Education students for the 2017 academic year.
A further 130 places also have been offered for TAFE students.
"The University is proud to record such healthy interest from students and offer more than 1500 places throughout all of our campuses," Professor Andy Smith, Acting Vice-Chancellor, said.
"This is an excellent start to the year and we wish all of our new and current students well for their studies in 2017.
"Students will be delighted to know that FedUni is ranked number one in teaching quality, student support and full time employment by the Federal Government's Quality Indicators for Learning and Teaching."
Professor Smith said FedUni would continue to emphasise the potential of new students to succeed rather than just the value of their Australian Tertiary Admissions Rank (ATAR).
"We believe our students are more than a numerical value, a ranking, based on high school performance that is too often a source of angst for many high school students," Professor Smith said.
"Our Open Access Selection Model allows more opportunities for students to study a higher education degree.
"It is based on applicants meeting prerequisite study scores rather than a minimum ATAR. It recognises a student's potential to succeed at university study."
In recent years a growing number of university places offered across Australia are made up of students who do not have an ATAR.
More than 50 per cent of new university students are mature age, international, vocationally qualified or have applied direct through alternative systems.
"Our close community links in Ballarat, Gippsland, the Wimmera and Berwick play an important role in the design of our programs, providing students with the necessary skills and employment prospects upon graduation.
"Our Industry Placement Program also allows businesses to tap into the next generation of employees," Professor Smith said.
"It enhances the students' academic studies with workplace experience."
Student support is also a major focus at Federation University Australia. Our comprehensive pathway and transition support programs and a firm commitment to student wellbeing is why more students are choosing to study at the university.
"We are among the nation's fastest growing universities. The addition this month of our Berwick Campus will be of significant benefit to South-East Melbourne students seeking higher education," Professor Smith said.
"We stand proud of our 147-year history providing tertiary education throughout Western Victoria, Gippsland and now Berwick."
If you are interested in further study at FedUni please email info@federation.edu.au or call 1800 333 864.