Media releases
FedUni researchers to put new year's resolution to the test
Posted: Thursday 5 January 2017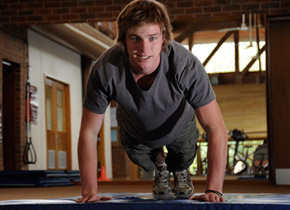 Researchers from Federation University Australia are putting the popular new year's resolution of getting fit and healthy to the test.
Tourism experts from FedUni Australia together with sports researchers at Deakin University are examining the relationship between health, fitness and the extent to which it influences people's decision to travel to keep fit.
The first stage of the study will be run locally and on Monday 9 January fitness junkies attending the popular Ballarat parkrun event will be invited to find out how strong and fit they think they are.
FedUni Australia's Associate Professor Elisa Backer says the focus in the first instance is to determine if a person's perception about their fitness are realistic.
"If people understand that exercise is beneficial, believe they are fitter and healthier than they are, they may not be undertaking the levels of physical activity required to maintain a healthy life.
"We're also looking at the role fitness plays in people's decision making when going on holiday. People may select certain destinations and accommodation so that they can maintain their fitness activity and not miss out. More specifically, people may travel a great distance to attend large sporting events like Ballarat parkrun or in a different location," Elisa said.
Research participants will put to the paces through answering questions, performing single leg squats doing a 'beep test'. Monitoring how efficient the body is at delivering oxygen to their muscles will also be recorded.
Ballarat parkrun is part of a world-wide phenomenon that involves people running or walking 5km in a local park each Saturday morning at parks all over the world. In Ballarat, it is held at Victoria Park at 8am and is open to everyone of all fitness levels.
Ballarat parkrun Co-Event Director Bruce Purdie says, the event has been going for 18-months and attracts people of all abilities and from all walks of life.
"We see elite athlete to families with children running or in prams, older people, and even people with dogs on a lead. It's inclusive and a great community event."
"It's volunteer-run and entry is free. People participating, whether they walk or run, receive a time once they cross the finish line. It helps people track their progress and push themselves in a supportive fun environment," Bruce said.
Researchers Associate Professor Elisa Backer and Dr Simon Feros will be conducting their research project at the parkrun start zone in Victoria Park near the new community playground at 5.30pm on Monday 9 January.
People interested in the study can attend the Ballarat parkrun event or visit the Facebook page or contact Associate Professor Elisa Backer on 03 5327 9645 or email e.backer@federation.edu.au